Today I had last-minute confirmation of insurance and did mad frantic packing and got to Artists' Place (near the post office and NatWest and Nino's and Eclectic Games) just in time to set up some sort of stall. It wasn't as professionally decked out as many of the others, but for a first effort I could have done worse, I feel.
The setup for artists was great; the Reading Arts Week people provided tables and gazebos (which were needed — it rained!) and even chairs to sit on, and the gazebos were set up when we got there and had sandbags to hold them in place. There was a gazebo for musicians too, with Music Related Kit; it seemed to work well, without microphone hissing or sudden loss of sound or any stereo weirdness. I was delighted that there were slots for musicians who were quite obviously starting out, as well as some fairly established and professional ones, and the gender balance was good, too. I didn't count but about half the singers were female and any backing musicians were male for women or female for men, as far as I remember.
There was a lovely atmosphere; as the day wore on, people's children showed up in school uniforms, and sat on the ground; some of them danced a bit at the sidelines, some of them danced a lot in the middle. Adults restricted themselves to toe-tapping and the occasional sway.
The visual arts represented were pretty varied – I saw original paintings, prints, ink work, screen printing I think, jewellery, papercrafts — I didn't see any sculpture but I also wasn't really well enough to walk around much so I might have missed things.
I'll make another post about what I learned from it all later, but for now here are the relevant photos. I didn't take many and I only had a phone camera, but this is what I have:
These are the paintings I had which were smallish and ready to hang: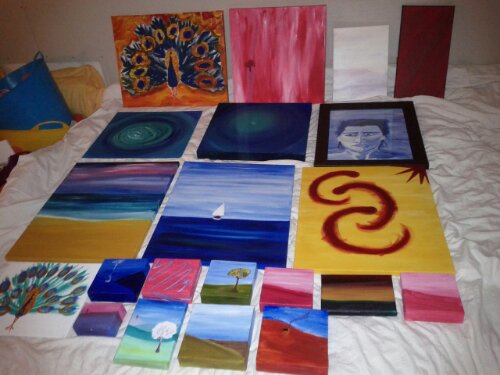 This was my stall after initial setup: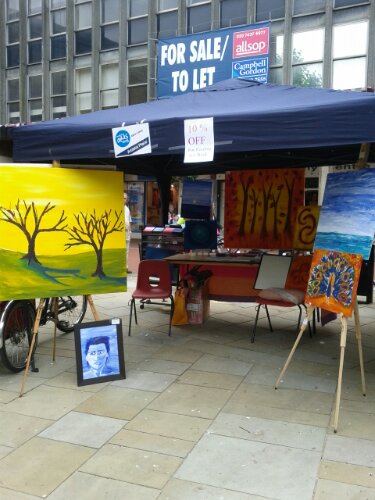 This was the view opposite my stall: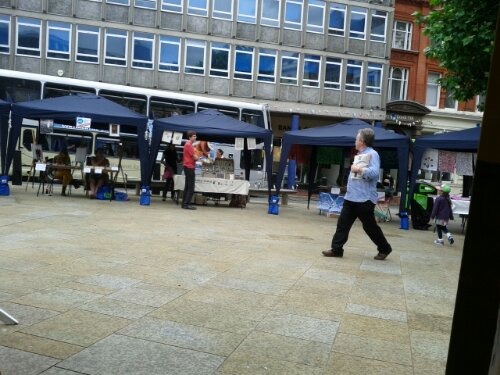 I was closest to the speakers, so much of the music was a bit too loud for me, but I really enjoyed this duo, Gloria Garcia and her guitarist (warning, link autoplays music, but I like it)